All about gragrances > Lanvin > Lanvin Me
Fragrance for women
House: Lanvin
Designer: Alber Elbaz / Domitille Bertier
Launch: 2013
Olfactory group: sheer gourmand
The elegance of finally being… myself
"Stop, enough, let me vibrate, catch fire, love, captivate, become the woman I really am –a slipstream of energy that not many can follow, but one who also dreams of tranquil pleasures. Open Sesame and show me the way to being reborn to others, to think newly of myself, to affirm my difference, to admit that I love everything very much and even more… But where is the magic formula hidden? In the Lanvin Blue box in front of my eyes?
With a subtle gesture, surrender to sweet temptation.
Is this who I am? Whimsical and bold, yet fragile? Has Alber dedicated this fragrance to me? The creator I love, the couturier whose baroque jewels, fertile imagination and talent combine to make me more desirable than ever? The truth is that we are both this exceptional perfume. But I interpret it in another way, as Alber's most personalized creation a present, a gift, an ode that he has designed for me alone. With his passion, his discretion, his flights of imagination, his appreciation of all things delicious.
Conveying the secret wish to tie our souls and senses together with a drop of essence, with the caress of fragrance.
But in the end, who am I – this eau de parfum so patiently invented by Lanvin and Alber Elbaz for me? A sensual, independent, carnal, desirable, wild and assertive woman. Determined and loving with a touch of self-centeredness, too…
Alber was surely thinking of me when he stated that he doesn't design gowns "for the men who fall in love with the women who wear them, but for women to fall in love with themselves!"
Well now I can confess it to him: in addition to being in love with his world and his creations, I have become his new perfume. Because of him, I will be able to dedicate each second, each minute, each hour, each day, my entire life to his cult. After all, isn't his first fragrance for Lanvin symbolically meant for ME?"
A great feminine perfume from Lanvin designed with Alber Elbaz
Breakthroughs always depend on miracles and encounters.
And success on shared visions and a desire to create, with each partner following the same path. Me is an original feminine fragrance inspired and born from the magic of Lanvin and Alber Elbaz.
He explains: "The ME woman is an individual, which doesn't mean an individualist or a narcissist. No, she is an individual because she also thinks about herself. She pays attention to what she is or what she wears, rather than trying to position herself with respect to others. Since ME is a gift perfume, the ME woman likes to give it to herself."
Rich jewelry set with gemstones, sophisticated yet simple outfits, splendid cuts and colors, talented ruffled draping, intense refinement, restraint and embroidery and soft lines and sequins. The creations of Lanvin's Artistic Director are permeated with precise shaping, clever detailing and a vision that doesn't turn a woman into an experimental model but makes her beautiful in her time and combines aesthetic sensitivity with daily practicality.
.
When a great designer like Alber Elbaz, who promises women style, style and more style, decides to create a great Lanvin perfume, he uses the same approach, makes the same demands and bases himself on the same ideas.
This creation has been studied like a new jewel from the House of Lanvin, imagined like an accessory worthy of decorating counters and stores, this luscious floral fragrance blends the worlds of fashion and perfume. Very much a couture item and dedicated to all women who worship the designer's creations, this eau de parfum is sophisticated, whimsical, different, sparkling to the point of irreverence, yet heady, assertive and sensual. It is somewhere between fashion narcissism and self-confidence, refusing the codes which constrain imagination. Its credo: be myself, become ME.
Given full creative freedom, Alber Elbaz collaborated with perfume designer Domitille Bertier to create a fragrance, which is as surprising as it is original. Even its name is unexpected: strong-willed, intimate and sensual without false modesty. It portrays a Lanvin woman who is spontaneous and knows what she wants, while remaining refined and feminine. "ME is more than a fragrance. It's a veritable story, which has been described, told and explained in scents and notes. It's a score based on the emotions of each instant, a captivating music of the senses," concludes Alber Elbaz.
The object itself is an object of desire with its box in legendary Lanvin Blue and decorated, like a gift, with an embossed gold tie. The bottle, which has been designed like a collector's item and placed in a timeless future, is just as impressive. The design relies on numerous signature codes which are typically couture: the black cap is engraved with the design that Jeanne Lanvin loved, the rectangular format with rounded edges expresses the power of a bottle destined to always be in fashion, the heavy glass inspires confidence, self-assurance and long-lasting appeal. It also includes the tender touch of a gold chain decorated with a blue-toned gemstone, a link between fashion and emotion.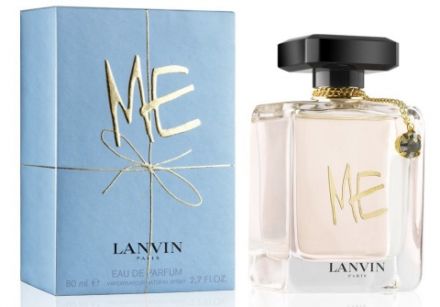 Observe the fine gold tie embossed around the delicate box, an Ariadne's thread linking surpriser and surprisee, intimately tying me to Alber through the magic of mystery. The bow pulls me close and beckons to be untied with my smile. Why wait when desire grows ardent?
Then see the name written with vivacity, two letters speaking to me, calling me; they are mine, I am theirs.
Wait no longer. Go into action with feverish delight and pull the bottle from its hedonistic gift wrap signed by Lanvin.
A form of glass, direct and powerful, feminine and filled with personality. A fashion message, a precious decanter, a jewel. A restrained and massive black cap contrasting with the lusciously thick bottle, made feminine, made fashion with the sparkle of a shining gemstone. The bottle works its intoxicating magic. I smile because Alber knows who I am and understands what I want.
Finally, uncap the promise of fragrance.
The fragrance picks up its delicious floral references with vivacity and spirit. The major harmony of licorice root and blueberry is complimented with fruity top notes, passionate middle notes (tuberose in particular) and intriguing base notes that include the fascinating licorice root. "I wanted a fragrance with luminous sensuality, one that would be addictive and feature an elegant signature," explains Domitille Bertier, who adds: "I also wanted a touch of Lanvin Blue, which is why there are sparkling blueberry accents."
Bewitching, sensual, and high-fashion, ME is simultaneously elegant, Parisian and stylish. It is both a birth and an affirmation. The birth of a new fragrance signature and a bold, original and captivating presence –complex because everyone is complex. The affirmation, in the eyes of Alber Elbaz, that with ME, you are the Lanvin woman, we are the Lanvin woman.
Top Notes:
Mandarin, Blueberry
Heart Notes:
Tuberose, Rose Absolue
Bottom Notes:
Licorice Black Wood, Sandalwood
EDP Natural Spray 80 ml / 50 ml
Perfumed Body Lotion 150 ml
Perfumed Shower Gel 150 ml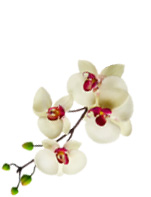 ©Copyright MSCOMM 1996 – 2020. Michèle Serre, Éditeur
Spas

Care & Make-up

Health

For Men

Glossaries

Various