2019 - 11 - Rebels Refinery
All about new beauty products > 100% male!
Every man has his little rebellious side. He wants products that match his image, nothing too froufrou, 100% male and rebellious - not to mention environmentally friendly.
So here's the Rebels Refinery line, all dressed in black and designed just for him, made with certified organic ingredients, with no gluten, phthalates or sulfates, not tested on animals and totally Canadian-made.
12 products to meet his every need… plus they smell fantastic. You might not care how you smell, but others do!
Advanced Clear Skin Facial Cleanser - 150 ml
You're not actually using a bar of soap on your face are you? Do you realize where that was used last? This natural, rich cleanser is the ideal solution for all skin types. Sulfate free and rich in aloe, this formula deeply penetrates the skin leaving it clean, healthy and soft. The MSM revitalizes your skin while the other botanicals balance skin tone, texture, elasticity and oil production.
Advanced Clear Skin Facial and Body Scrub - 100 ml
This natural facial scrub is the ideal solution for all skin types. The advanced formula helps to remove dead skin cells, unclog pores, improve circulation to your skin and help with ingrown hairs, allowing a really close shave. When applied properly and as part of your normal skincare routine, this solution will help you achieve clear, healthy, younger-looking skin. Protect that thick skin of yours gentlemen. It's a crazy world out there.
Anti-wrinkle Moisturizer - 100 ml
An unscented, non-greasy formula that helps nourish, stabilize and protect skin from dryness while reducing the look of fine lines and wrinkles. The inclusion of botanicals and active ingredients such as peptides, aloes, coconut oil, jojoba, vitamin C and zinc are the perfect blend to promote elasticity and firmness in the skin. Leave the skin soft, fresh and confortable. Don't act like you're not afraid of wrinkles gentlemen. Stay handsome.
Rehab Roller Under Eye Treatment - 15 ml
Take your eyes to rehab with this natural eye serum. The blend of botanicals and caffeine reduce the look of puffiness as well as dark circles. What you do while staying up late is entirely your business… Rebels Refinery just wants to make you look a little more presentable in the morning.
Moisturizing Beard And Pre Shave Oil - 30 ml
Keep that beard or stubble looking majestic with their special blend of oils to prevent dandruff, encourage hair growth and keep your thigh tickler soft, healthy and smelling absolutely amazing. Rubbed into your skin before adding shaving cream, will help assist razor glide while reducing razor burn, nicks and cuts. Stay sexy wild cat. Formulated with prime rosemary, almond oil, frankincense, tea tree oil, and lemon.
2 in 1 Body Wash and Shampoo - 400 ml
This shampoo and body wash is designed to clean the entire body from head to toe. Leave your hair and skin moist and soft while botanical rejuvenate the body. An aloe, rosemary and sunflower extract formula. The little extra: the bottle has rough sides so that it won't slip out of your hands. That's Rebels Refinery: thoughtful products made for humans, not just design.
Wealth Of Man Organic Oil Bar Soap -130 g
You might not always be a man of wealth but you can always be a goddamn wealth of man. Packed with organic coconut oil, organic palm oil and soy protein, let this black bar rejuvenate your body until you're slightly manlier. If at all possible. Each bar is hand wrapped, strung and wax sealed in Toronto Canada in small batches of 500. No two bars are the same- snowflakes if you will.
Moisturizing salt soap -131 g
Salt by nature is full of great minerals such as magnesium, zinc, calcium, potassium and iodine, among others. These minerals offer many therapeutic benefits including relaxing the muscles in your skin. These 100% natural soaps are also incredibly anti bacterial (kills odor) and will leave your skin extremely moisturized. Very mild/neutral, refreshing scent which is easy for everyone. For body only.
Dirty Boy Bamboo Face And Body Wipes (30 wipes)
These natural face and body wipes can help any dirty boy get clean. Rebels biodegradable, natural bamboo wipes are softer than the softest cotton and contain natural anti-fungal properties. Stay clean, cool and non-sticky in any "pinch" of a situation. Finally some wipes made for men, for athletes and guys who need to cool off and clean up. Super soft packaging that you can slip anywhere, with a plastic flap opening that's more practical than the traditional self-stick.
Hair Styling Paste
Keep the pretty hair of yours in check all day by adding this matte paste of perfection. Use it for a number of styles from a natural look, to refined, to a more dramatic look. You're going to look and feel great heading out the door. Friendly reminder-DON'T HURT NOBODY.
Rebel Lip Balm
Function meets design with the Rebel geometric pineapple or skull shaped lip balm. The highest quality coconut and sweet almond oils moisten, nourish and protect while Vitamin E provides essential antioxidants. Each one's flavour is called "Exotic Fruit" which tastes like a symphony of mango and strawberry. Please be warned of lip balm envy. The little +: helps reduce cold sores.
The mission at Rebels Refinery is to help men look good, feel good and raise money and awareness for the most notable Prostate Cancer Foundations. You'll love the slightly retro and English packaging, the high quality of the products and the very affordable prices. The Rebels Refinery line is available in Brunet pharmacies. Find the complete list of sales locations at rebelsrefinery.com or simply order on line. Available in Canada and northern US border states.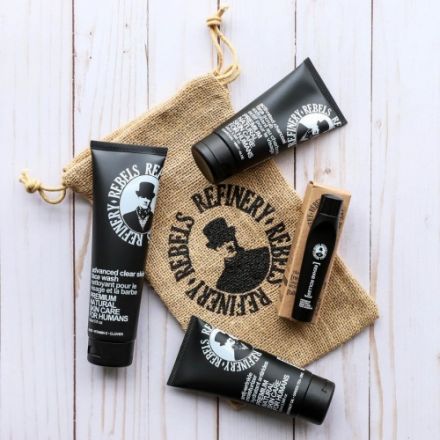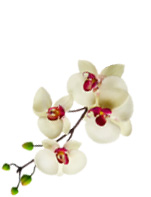 ©Copyright MSCOMM 1996 – 2020. Michèle Serre, Éditeur
Spas

Care & Make-up

Health

For Men

Glossaries

Various