Huile Prodigieuse by Nuxe
New products > Nuxe > Huile Prodigieuse
More than 30 years of pleasure, glamour and effectiveness for even more Beauty by Nature.
A "cult" product that created addiction for a multitude of women and celebrities all over the world. It nourishes, repairs and softens the skin from the tips to toes. In addition, its fragrance is bewitching. It's like taking your mind on vacation. Did you know that for the past 30 years: one bottle is purchased every six seconds in the world!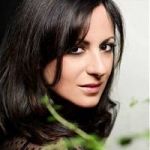 There's always a story behind such performance…
Aliza Jabès's childhood was immersed in her father's tales about research in the world of medicine. This provided the building blocks for her brand. The use of scientific and pharmaceutical expertise to offer truly effective nature, like the compliance with treatment instructions, backed by proven innovation and rigorous evaluations (32 registered patents).
Because Aliza did not simply focus on naturalness and performance; she also introduced a new idea: sensuality combined with pleasure. A touch of glamour that would make all the difference.
The small R&D laboratory, specialized in aromatherapy and phytotherapy, which would quickly earn a reputation for itself under the name NUXE – "N" for Nature and "UXE" for LUXE, the French word for Luxury – soon to become an international brand of natural-origin Cosmetics. A brand boasting two-digit growth every year for the past ten years, the strongest growth in the pharmaceutical distribution channel.
1991 marked the debut of the NUXE label with its first creation: Huile Prodigieuse. A launch that was to overturn all of the codes of the pharmaceutical sector. The completely innovative Huile Prodigieuse created a buzz. Why?
- Because a dry oil was unusual in 1991.
- In fact, it was inexistent in pharmacies.
- Furthermore, a multi-purpose oil (face, body, hair) with a delightful name was as unprecedented as it was daring…
Yet, this first multi-purpose Huile Prodigieuse dry oil was a hit as soon as it was released – in France, of course, but rapidly outside of the country as well.
A unique multi-purpose skincare formula from hair to toe
For the face
Spray Huile Prodigieuse and warm it between the palms of your hands.
Apply to face with smoothing movements, working from the center of
the face outwards. Ideally nourished, skin on the face feels softer, more supple and more elastic.
For the body
Spray Huile Prodigieuse on desired areas (bust, arms, tummy, thighs, etc.).
Massage zone by zone, in circular motions. Skin feels soft and satiny. The appearance of stretch marks is reduced(3).
For hair
Spray Huile Prodigieuse directly onto hair (from about 20 cm away). Massage into hair and scalp.
Wrap hair in a dry towel and leave on for 15 to 20 minutes to increase absorption of Huile Prodigieuse.
Wash hair with Rêve de Miel shampoo. Hair feels softer and more supple and looks shinier.
Men with unmanageable hair can't get enough of Huile Prodigieuse because in just one tousle, it disciplines unruly spikes, controls curls and reveals a glossy head of hair.
And don't forget these "miracle" Beauty recipes:
Huile Prodigieuse® singularly enhances the properties of your daily skincare cream or body cream. Simply spray a small amount into the palm of your hand and mix with your dose of cream before applying to face or body. A nourishing and beautifying effect guaranteed!
Mix a drop of Huile Prodigieuse® OR with Teint Éclat Prodigieux tan or goden in the palm of your hand… the best beauty booster ever for summer!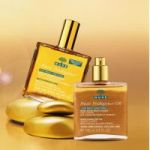 The silicone-free dry oil texture leaves no greasy afterfeel on the skin – while leaving skin feeling incomparably soft.
The textures are soft and voluptuous. The scents are delicate, refined and sensual. The product names are created to incite desire and emotion. Often imitated, but never equaled… Its 98.1% natural formula, enriched with Vitamin E and free of silicones, preservatives and mineral oils, is composed of six precious plant oils (Macadamia, Hazelnut, Borrage, Sweet Almond, Camellia and St.-John's-Wort) to help nourish, repair and soften the skin.
An iconic fragrance
A sunny scent infused with sweetness and femininity, instantly releasing orange blossom, bitter orange and mirabelle plum notes before revealing an addictive floral heart of rose, lily-of-the-valley and white lily. The finale is provided by a sensual base of amber, vanilla and cedar wood.
Huile Prodigieuse Multi-purpose Dry Oil Face, Body, Hair
is available in 50 ml but you will love the 100ml format crowned with a pump. This spray releases a wide, ultra-fine mist for easier application.
Huile Prodigieuse Golden Shimmer version.
The same effectiveness and pleasure, plus an immediate beautifying radiance effect. Thanks to the presence of fine pearly particles, the skin is adorned with a subtle iridescent finish for even more glamour. This spray diffuses ultra-fine golden particles to subtly light up and instantly beautify skin and hair.
2014 - The cult product is back!
Prodigiously effective, prodigiously irreplaceable, prodigiously unique…It's 97.8% natural formula is enriched with vitamin E and does not contain silicone, preservatives, or mineral oil.
Made with 6 precious oils from plants (Macadamia nut, Hazelnut, Borage, Sweet Almond, Camellia, and St.-John's-Wort), its inimitable fragrance, a sunny scent, full of sweetness and femininity, immediately emanating orange blossoms, bitter orange, and plums. Then follows a very addictive floral heart with notes of roses, lilies of the valley, and white lilies. The fragrance concludes with a sensual backdrop of amber, vanilla, and cedar wood.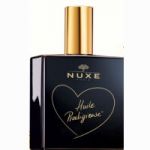 Nuxe is setting an elegant and playful tone for 2014 with its stylish new Huile Prodigieuse limited edition. The classic square bottle is now dressed entirely in black, save for its golden cap.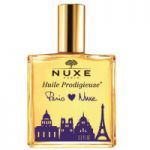 In 2016, Nuxe brings you to Paris... The Parisian dream captured in an exclusive limited edition.
A romantic getaway, an evening surrounded by the emblematic monuments of Paris
A Legendary Formula always based on a unique cocktail of six precious botanical oils: macadamia, sweet almond, camellia, St. John's wort, borage and hazelnut.
A French beauty secret since 1991


: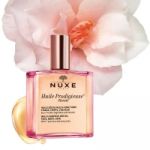 NUXE's iconic care product with seven 100% botanical precious oils is now revealing a new version with a floral and delicate scent.
Its anti-oxidant action, "anti-pollution shield" effect* and its effect on reducing the appearance of stretch marks make it your everyday ally. Its inimitable dry oil texture is accompanied by a novel olfactory signature at Nuxe, featuring fresh and floral notes for a new moment of pleasure.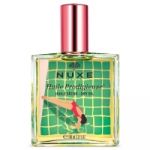 For the 2020 vacation season, Nuxe has called on students of the Penninghen school of art direction and interior architecture to design swimming pool-themed versions of its Huile Prodigieuse. The results of their efforts are these three new limited edition bottles that evoke the joys of relaxation in summer - three colors for three distinct moments of escape with an image of a bathing beauty, who sits, dives or swims depending on the version.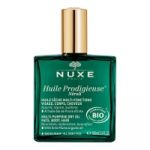 Its delicate alchemy of precious organic oils (organic Ente Plum oil and organic Sesame Oil) infuses your skin with an irresistible satin sheen thanks to its sensorial dry touch texture.
Its scent with soothing notes of Neroli nurtures a sensation of absolute serenity.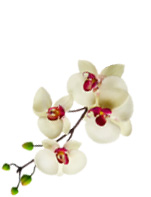 ©Copyright MSCOMM 1996 – 2022. Michèle Serre, Éditeur
Spas

Care & Make-up

Health

For Men

Glossaries

Various