2018 - 08 - Black cumin oil
New beauty products > Black cumin oil
'Black Cumin Oil has a cure for all diseases except death'. From famous Hippocrates to Prophet Muhammad who said these words, many are those who have praised the thousand virtues of this oil. Understandably, African Essentials has put Black Cumin Oil at the core of its range.
Part of the buttercup family, the seeds are dark, thin, and crescent-shaped when whole.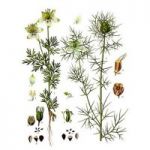 Black Cumin or Nigella Sativa is a herbaceous plant giving beautiful blue, white or pale pink flowers. Nigella sativa can be found all over the Meditarranean and in the Middle East. It has been widely used as a medicinal plant in the arab-muslim world and its consumption tends to develop worldwide thanks to the many benefits of its tiny triangular seeds. The aromatic seeds of black cumin can be used as spices in different recipes but also as a remedy against different health problems. As a matter of fact, the black cumin seeds contain many different components with antioxidant, antibacterial, fungicidal, anti-inflammatory, immunostimulant and antitumoral properties.
Known as Islam's miracle cure seed, black cumin is also called Habbatul barakah, meaning "seed of blessing."
Black cumin seeds (Nigella sativa) have been used therapeutically for over 3,300 years, since their first reported discovery in Egyptian Pharoah Tutankhamun's tomb.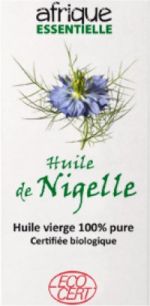 African Essentials Organic Black Cumin Oil is a moisturizing therapeutic oil with a light texture and a wide range of applications since it contains more than a hundred active constituents that impact both the immune system and skin disorders.
Regarded as a truly universal remedy since the Pharaohs era, Black Cumin Oil is extracted from the seeds of the Nigella Sativa herb grown by small Egyptian producers. Rich in essential fatty acids, essential oils and trace elements, African Essentials Black Cumin Oil helps reinforce our natural defences and fight inflammation and skin irritations and parasites. Can be used pure in gentle massage or blended with another quality vegetable oil or with selected essential oils added.
Beauty
Cleopatra used it as a beauty treatment.
Queen Nefertiti used black seed oil to bring luster to her hair and nails.
Therapeutic uses
• Sensitive and irritated skin
• Scars
• Dermatites
• Protection against skin aging
• Acne
• Psoriasis
• Eczema
• Mycoses
• Joint inflammation
• Dry and dull skin, split and breaking ends
..........
African Essentials is actually KARIDERM's little sister brand. The company established its reputation in the natural cosmetics industry for more than 16 years by being the first brand to incorporate certified organic shea butter. You can buy their products in some retail outlets in Canada or online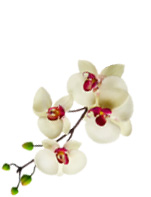 ©Copyright MSCOMM 1996 – 2020. Michèle Serre, Éditeur
Spas

Care & Make-up

Health

For Men

Glossaries

Various