All about fragrances > Yves Rocher > Monoi, Eau des vahinés
the Scent of tropic Paradise
Fragrance for women
House: Yves Rocher
Designer : Nathalie Gracia-Cetto, Givaudan
Lauching date: spring 2012
Olfactory group: floral
This summer, Yves Rocher launches the ultimate summer scent, Monoï Eau Des Vahinés. A scent that encaptures the wearer with a sense of paradise and conjuring images of Blue lagoons, white sandy beaches, emerald palm trees and golden sun.

Finding the perfect summer scent is important to many women. Most choose to wear a different fragrance during the day than they do in the evenings. This is also true from season to season, changing as each one passes. In the summer, a popular choice of fragrance is one that is both floral and fruity at the same time. Yves Rocher has set out to create the perfect summer scent.
In the quest for a rich and sensuous summer eau de toilette , the notes for Monoï Eau Des Vahinés were devised by Nathalie Garcia-Cetto, a Parfumer at Givaudan. Nathalie says "I imagined for this summer's must have scent, the sweet fragrance of islands flowers, inspired by my holidays and those of my friends."
Monoï is a beauty tradition known among Polynesian women and literally translates as "scented oil" in Polynesian. Tahitian women cover their body and hair with this 100% natural botanical beauty elixir to beautify themselves, adding a fragrance similar to that of a tropical paradise. Monoï is obtained by macerating Tiaré flowers in coconut oil, from coconuts which are grown exclusively in French Polynesia.
In creating Monoï Eau Des Vahinés, the secret lies in the Tiaré flowers which are largely responsible for the luxurious fragrance. They are picked early in the morning, by hand to protect their scent's density. To enrich the scent, these notes are then blended with those of Lily, Frangipani and Tuberose.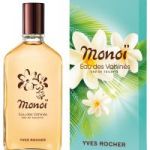 It's this precious scent, derived from the coconut that leaves a delicious summer scent on the skin. This is a perfume that can be worn everywhere this summer, even at the beach.
A truly escape without luggage!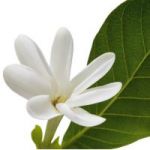 The flower of Tiaré is a most treasured plant. Around its golden yellow pistil, winds a fan of petals of a wonderful white colour, sometimes with tones of pink or orange.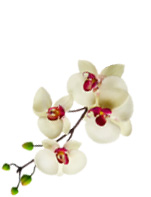 ©Copyright MSCOMM 1996 – 2020. Michèle Serre, Éditeur
Spas

Care & Make-up

Health

For Men

Glossaries

Various