All about fragrances > Yves Rocher > Moment de Bonheur
Fragrance for women
Perfumer: Annick Menardo at Firmenich for Yves Rocher
Lauch Date: Fall 2011
Olfactory group: floral fruity
Can happiness come in a fragrance?
At Yves Rocher, they're convinced of it. It would be a perfume of flavour as well as scent. It would contain syrups and calyxes, exquisite juices and summer breezes, beautiful raw materials, spirit and personality.
It would be an instant of true happiness.
It would be a… Moment de Bonheur
For Annick Menardo, Perfumer, happiness can only be expressed through colours. That is to say, technically speaking, a fresh and botanical ascension with a vibrant floral heart.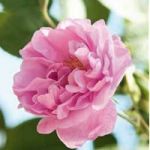 The most feminine and most elusive of flowers opens its petals to the sun. There are young Roses and buds, without thorns, yet petulant and franc, hesitating between Peony and Wild Rose.There are full, ruffled Roses. Languid, somewhat mature, a bit powdery and satiny with the flavour of jam.
Finally, like the period at the end of a sentence, there is the vibration of Patchouli and the depth of Cedar that offer the after-scent to the flowers and leaves.
In Provence, right near Grasse, grow the most coveted Roses in the world: the Centefolia; which means one hundred petals. These Roses are picked at dawn, over a few days in the month of May, and then pressed to obtain an exceptionally delicate and pure extract. No olfactory residue here, only the infinite variation of a marvellous scent that goes from Honeysuckle to Vanilla, from Peach to peppery sugared Almonds, from Artichoke to Madeira wine. Rose production in the Rose fields of Grasse has shrunk bit by bit over time. Today, only a few dozen kilos of
this exceptional flower are available each year.
But anyone who has smelled it knows…. that the May Rose is an instant of true happiness, a… Moment de Bonheur!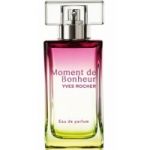 Pink hues descending to a green which melts to yellow in a palette of colours both intense and modulated. Its simple, distinguishable rectangular shape is topped with a cap as reflecting as crystal. And light sparkles from it, like a precious stone.
Caught in a light breeze, this flower of your dreams says it just like the perfume's opening notes: happiness is fleeting; seize it before it vanishes!
Eau de parfum 30 and 50 ml.
To continue the happiness trail, Moment de Bonheur is also available in body milk, shower gel and perfumed deodorant.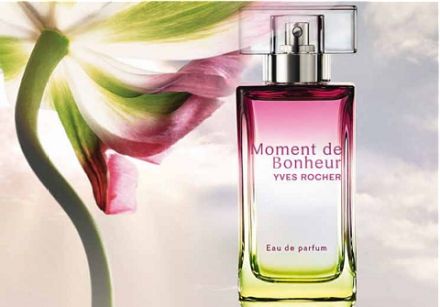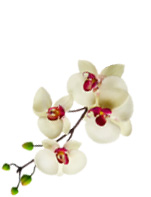 ©Copyright MSCOMM 1996 – 2020. Michèle Serre, Éditeur
Spas

Care & Make-up

Health

For Men

Glossaries

Various