All about fragrances > Thierry Mugler > Womanity, Sweet femininity with a savory kick

Fragrance for woman
Perfumer : Thierry Mugler
Launching date : September 2010 (Europe) / August 2010 (North America)
The Taste of fragrance version: Setember 2011
Olfactory group : sweet-savory
18 years after Angel and 5 years after Alien, Thierry Mugler is saluting femininity. The new edition is named Womanity.
Womanity is a word created to connect femininity, humanity and city. An overture to this edition began in March 2010 when Mugler launched Womanity.com web site with an idea that every woman cooperates in its creation and finishing touch.
Womanity is the invisible link that binds women together. With Womanity, the idea was to encompass energy, tenderness, and sophistication at the same time - to evoke a feeling… to evoke feelings. We wanted to break new ground by including a savory note – not oceanic, but truly savory – in a fragrance. The world knew green, oriental, floral... then with Angel we innovated with a gourmand scent. To me, femininity evokes the notion of totality, of completeness; savory and sweet all at once. So we had to find a "salty" note, create an accord, and compose a rhythmic play between sweet and savory". A rhythm that adapts to your skin. Because each skin bears intimate memory of what it loves. At each moment. A rhythm that changes with the day, the feeling, the mood. Polysensuous universe – because a Mugler fragrance is a scent, and a taste…
The bottle
The architectural simplicity of glass, a delicate flush of rose, the force of an engraved motif. An elongated cut with an oval base. Fragrance WOMANITY was created as a part of this phenomenon, in a pink bottle. Connections between women are presented as chains and ring on top of the bottle which is decorated with metal frieze with symbolic design. Design of the top part of the bottle and beautiful frieze figures can be interpreted as Gothic or Art Deco style. Mugler's idea was however that the frieze encapsulated and depicted women of all generations.
The fragrance
It's a musical fragrance, tuned to the emotions of the woman who wears it. A fragrance that tells many stories. Because each woman is different. Because each woman is a world of difference. Each woman sees herself through her difference.
The fragrance of regeneration.
Three accords were used to symbolize the three faces of every woman. Warm, sharp, gentle. Intoxicating, deep, fresh. The opening notes for a voyage of discovery.
First, the sweetness appears in a brilliant burst, a soaring, sybaritic flight. A note of fig, with its juicy, fruity flesh, a diaphanous milkiness - symbolizing a woman's feminine side
Then, a cheeky note of savory: subtle, troubling, almost animal – caviar. Mordant and magnetic - that symbolizes her sophistication and complexity.
Finally, the elegance of a woody accord. Green, sensuous, pure. Fig wood and leaf - which evokes power, intuition and wisdom.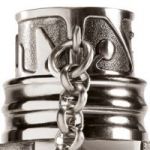 Eau de Parfum - Refillable spray 30 ml, 50 ml and 80 ml
Eco-Source bottle 50 ml
Perfumed Shower Gel 200 ml
Perfumed Body Milk 200 ml
Perfumed Body Cream 200 ml
The Taste of Fragrance 2011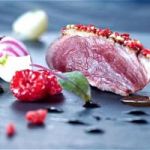 Denoting the radiant sweetness of the fig and the marine-scented boldness of the caviar, this complex creation reflects the countless faces of femininity.
In the 'Taste of Fragrance' version, the mystery of Womanity is untouched. The sweet-savory accord becomes even more exceptional and more disconcerting with the intermingling of chutney made of figs that are subtly spiced and candied in sweet vinegar.
Pierre Aulas, Olfactory Artistic Director for Thierry Mugler Parfums
Fig chutney was chosen as the taste enhancer. Incorporated into the original formula, it gives the fi g a candied tone and heightens the savory note of the caviar with a bouquet of spices, bringing a disconcerting aspect to the accord. Fig and caviar will be your ideal ingredients, but you may want to use the chutney as an ally through its numerous spices. As with the other fragrances, this note of fig tree wood will be complicated to use.
Inspiration of Hélène Darroze, Grand Chef, Paris
It immediately brings to mind an hors d'oeuvre. We will have to focus on a very sweet, very feminine dish: a "bitesized" morsel which can subtly combine the fig and especially the chutney.
Obviously, at the end of the preparation, to reflect Womanity's iodine facet, we will add a few grains of caviar with the tip of the knife, like a signature, an apotheosis.
Recipe
Sea bream tartare, hazelnuts and grapefruit zest, cranberry bean mousseline, French caviar and fig chutney juice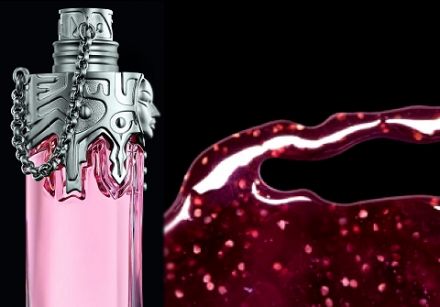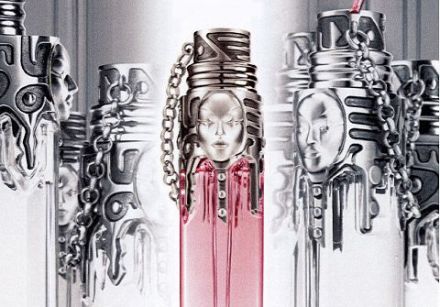 2012 - Womanity pour Elles - New EDT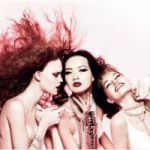 A fruity, sweet-savory eau de toilette with a true personality.
To bring Eau pour Elles to life, the sweet-savory accord, emblematic of Womanity, is enhanced by a new, fruity facet. This luminous, sparkling creation blossoms in three steps or through three "encounters":
- Fruity - the Mara des bois strawberry colors the fragrance with the delicious, juicy red fruit notes
- Sweet - the white fig with transparent vegetal notes
- Savory - the caviar notes to preserve Womanity's signature.
2013 - Womanity Aqua Chic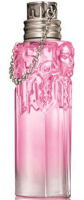 Vibrant freshness of coriander water fused with a mandarin blossom and redcurrant accord
Womanity Eau de Perfume is Thierry Mugler's third women's fragrance, launched in 2010. It is an innovative woody sweet savory creation. Facetted around a fig and caviar accord, it reflects the multiple faces of femininity. For its first Aqua Chic version, the personality of Womanity is fine-tuned and lightened with unique evanescent effects: the entire composition is refreshed by coriander water with spicy accents, blended with a mandarin blossom and redcurrant accord. Positive, tangy and velvety energy is paired with the elegant savory-woody base for a new expression of the invisible bond that unites women.
A citrus sweet fresh fragrance by Karine Dubreuil for Vox Profumi.
A totem bottle chiseled by light The gradational silver mirror effect of the sculpted glass bottle contrasts with the delicate pink fragrance and highlights the vibrant freshness of Womanity Aqua Chic. EDT Light 50 ml.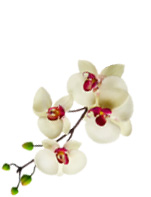 ©Copyright MSCOMM 1996 – 2023. Michèle Serre, Éditeur
Spas

Care & Make-up

Health

For Men

Glossaries

Various