Thierry Mugler - The Taste of Fragrance
All about fragrance > Thierry Mugler > The Taste of Fragrance
Thierry Mugler continues to overstep the boundaries of traditional perfume-making, with his exceptional and legendary perfumes, to launch more of
his extraordinary creations. By venturing into unexplored territory, he appears where he is least expected.
The idea: experimenting beyond the innovative production processes to create breathtaking perfumes.
The challenge: alter the structure without distorting the nature of the four iconic fragrances by Thierry Mugler.
With the 2009 introduction of 'Liqueurs de Parfum', he drew on the ancestral know-how of winemakers to age his fragrances in wooden casks.
In 2011, Thierry Mugler Parfums continues to experiment, focusing its research on one of the senses showcased with its very first creation: taste.
With the 1992 release of Angel, Thierry Mugler invented a new olfactory family of "Oriental – Gourmand" fragrances, based on a "delicious" facet featuring
red berries and praline notes. In 2010, he repeated the experience with Womanity, creating the very first "Sweet – Savory" fragrance, which utilizes an exclusive molecular extraction process to achieve the fig and caviar accords. An unforgettable experience...
Today, Thierry Mugler invites perfume lovers on a journey of fragrances and flavors with his new collection: the taste of fragrance.
With the 'Taste of Fragrance', the precursor of Haute Gourmand Perfumery is guilty of twisting fragrances, offering the rediscovery of
through their fantasized flavors. Thierry Mugler allowed the perfumers full freedom, challenging them to broaden their palettes of ingredients and introducing into each composition a "taste enhancer".
An explosive collection of four gourmand fragrances, with superbly concocted notes that will nearly make your mouth water…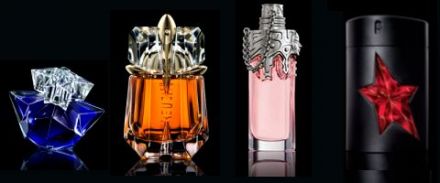 Pierre Aulas, Olfactory Artistic Director for Thierry Mugler Parfums
Pierre Aulas: For the 'Taste of Fragrance', it is not simply the fragrance compositions that are revolutionary, it is also the secret in their production. Traditionally, the perfume concentrate contains all the fragrance components and is aged in steel vats for a given time to ensure that it is thoroughly blended. For our project, the concentrate and "taste enhancer" were placed in separate vats to age for a few weeks. That way, each concentrate was preserved and assembled only at the solution phase, when alcohol is added to dilute the concentrate in the desired proportion. The complete solution, combining both fragrance and enhancer, then macerates to obtain the fi nal juice.
It took over six months to perfect these recipes.
Hélène Darroze, starchef in Paris and London
This process is actually similar to the process used in gastronomy. We prepare the ingredients of a dish separately and only combine them at the end of the recipe to create not just a mixture, but a harmony of flavors. To match the four original fragrances, we imagined four so-called "classic" recipes. We then adapted them to the taste enhancer, creating four new recipes that are almost identical, yet with a touch of brazenness, refl ecting the image of the 'Taste of Fragrance' versions.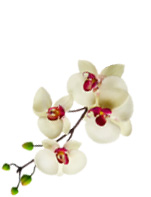 ©Copyright MSCOMM 1996 – 2022. Michèle Serre, Éditeur
Spas

Care & Make-up

Health

For Men

Glossaries

Various