All about fragrances > Montblanc Legend Spirit
Men's Fragrance
House: Montblanc
Designers : Nathalie Lorson and Olivier Cresp
Launching : 2016
Olfactory group : Fresh Woody Aromatic
Making History
For over 100 years, Montblanc has been distinguished by its core values of fine European craftsmanship, a heritage of sophistication and a constant drive for innovation coupled with the pursuit of excellence. The legend of Montblanc is anchored in its history, which began in 1906, when Hamburg banker Alfred Nehemias, Berlin engineer August Eberstein, and stationary trader Claus-Johannes Voss decided to create elegant writing instruments, boasting exceptional quality. Since then, Montblanc has been synonymous with excellence, embracing the traditions of lasting value and exquisite craftsmanship. But however compelling, the lure of sophisticated objects of desire is not alone sufficient to explain the remarkable aura of what is now one of the world's leading luxury Maisons. What is, and has always been, unique about Montblanc is a very special blend of tradition and innovation, craftsmanship and creativity, history and modernity. It is this that has ensured that, over a century, from the creation of icons such as the "Meisterstück", Montblanc has always been ahead of its time.
In 2011, a new chapter began to unfold with the birth of the Montblanc Legend fragrance. An exceptional fragrance for a man with a truly independent spirit and a very unique disposition. A new success story for the Maison as Montblanc Legend became a worldwide classic among masculine fragrances.
The Legend Continues...
It was only natural for Montblanc Legend to go on to inspire a new, an even more virile fragrance with just as much verve and alluring sincerity. Today, the Maison presents an newfound expression of his personality caught in moment of total freedom and serenity with a new spirited expression of masculinity... Montblanc Legend Spirit.
A new fragrance that reveals a more casual and unguarded aspect of the Montblanc Legend man but still embodies the versatile appeal and quintessentially elegant elements of his character. Peaceful, his mind wanders, continually yearning to explore new horizons and uninhibited visions. His imagination is stimulated by everything that surrounds him...modern art exhibitions, beautiful skylines, indulgent coasts, the contemporary design of his boutique hotel. Enjoying a cocktail on a trendy New York rooftop or bare foot on a Brazilian beach, his cool sophistication is always intriguing. With an utter lack of pretention, he is irresistibly attractive... Montblanc Legend Spirit: a new dimension of compelling charisma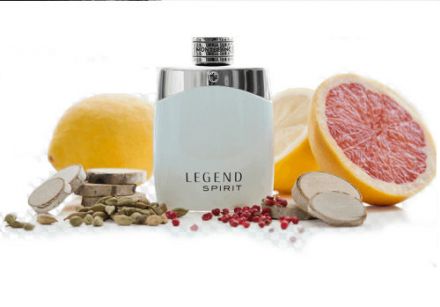 Inspired by all forms and shades of white, from snow to marble, the two master perfumers Nathalie Lorson and Olivier Cresp found a perfect composition to create a fresh, virile and intense fragrance as breathtaking as a resplendent landscape. The brand new olfactory pyramid of this fresh woody aromatic fragrance is made of exceptional ingredients. The sparkling top notes of pink peppercorn, bitter grapefruit and transparent zesty bergamot are immediately unleashed. Its powerfully aromatic heart beats wildly, thanks to intense lavender, hypnotic cardamom and an invigorating aquatic accord. White woods – sandalwood, cedar and cashmere – sensually blend with oak moss, the unique signature scent of Montblanc Legend, creating enveloping and authentic base notes, softened with a cocktail of white musks. The scent heats up on the skin, vibrates in contact with the air and draws strength as it releases an unmistakable sillage
.
With a characteristically healthy dose of rebelliousness and audacity, the Montblanc Legend Spirit man has an appetite for creative contrasts. Although the black and white Montblanc codes as well as the Montblanc Legend bottle's original curvaceous shape are preserved, Montblanc Legend Spirit stands out thanks to its radically modern aesthetic of immaculate glossy white lacquer and tempered steel. It is a beautifully designed accessory that also matches other travel companions of the Maison such as the 'White Meisterstück Solitaire' writing instrument, a stylish and functional object for today's modern urban life.
The Montblanc signature is featured on the metallic upper part of the bottle, as well as on the lid and the name also appears on the bottle. The three metallic rings, a symbol found on Montblanc writing instruments, are featured at the base of the packaging, while the distinguished Montblanc emblem appears in contrast over the shiny white background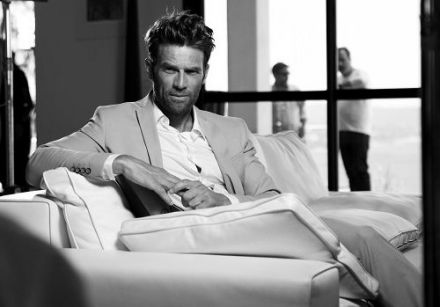 Englishman Simon Clark, the face of Montblanc Legend, also incarnates the Montblanc Legend Spirit man. Photographed by Peter Lindbergh for Montblanc Legend, his powerful persona debuted in black and white. Perpetuating this tradition, Montblanc Legend Spirit was captured by John Balsom, an English photographer often acclaimed for his celebrity portraits, who knows how to beautifully capture times gone by and the experiences that shape our faces. Our man has a past that he wears well as he ventures into the future.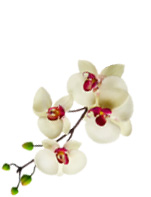 ©Copyright MSCOMM 1996 – 2020. Michèle Serre, Éditeur
Spas

Care & Make-up

Health

For Men

Glossaries

Various