Fall...ing in love with Guerlain
Transparent yet enigmatic…refined and natural, subtle yet daring…Guerlain's Jeu de Dames collection plays with a woman's every desire and inherent contradictions. She alone knows that she is "never exactly the same, nor exactly different". Inspired by the liberalness of the roaring 20s, Olivier Echaudemaison has created a collection that is seductive and fun, sexy and free-spirited, with elegant, vibrant and subtle make-up to suit different moods and occasions. He appeals to the entire female spectrum, from the woman of sophisticated innocence to the intensely seductive femme fatale.
"Jeu de Dames offers a new freedom of expression, playing with light, colours and materials to create as many different looks as you can imagine: matte, gloss, pearlescent, intense or subtle eyes; velvety, metallic, glossy or silky-satin lips. This collection is about juxtaposing or combining two, three or four textures depending on your mood. Change your make-up everyday: deploy a winning strategy and outshine the competition!" Olivier Échaudemaison, Creative Director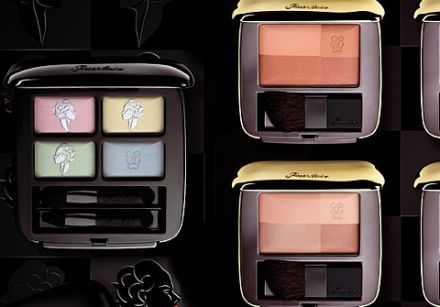 Ombre Eclat - 4 Shades Eyeshadow
This new duo of eyeshadows revives the magic of Guerlain and offers a new make-up experience. Vibrant, sparkling, and ultra-sexy, these two sets of four contrasting light and dark shades, Jeu de Nuit and Jeu de Nacres, are embossed with the outline of the Jeu de Dames lady. They are concealed in a matte box or a shiny case and create sparkling eyes and playful looks. Two palettes, eight shades for a dramatic or subtle look. Create shadow with the light-dark shades or opt for a softer look. Fun and endless possibilities reign!
Jeu de nacre - In their shiny black lacquer case, four colours provide a treasure trove of contrasts: pink, ivory, sky blue and mint green. Fading away over time, the silvery outline of the lady is imprinted on these soft and glossy, light and pearlescent pastel shades. The iridescent, metallic effect is perfect for reflecting the light.
Jeu de nuit - A matte box containing four off-blacks with a hint of scarlet: deep mocha, slate grey, carbon black and charcoal grey engraved with the famous outline of the lady in pearly red. These four dark, pearlescent shades add depth to the eyes, enhancing their magic.
Set against the ultra-pearly shades of the two Ombre Eclat 4 Shades – Eyeshadow in these collector editions, the off-blacks combine with the muted pastels to adorn the eyelids with a light, shimmering finish that is sheer refinement.They create a multi-faceted look like a gemstone with a magnetic allure of subtle attraction. Subtle slightly darkened eyes or smouldering sexy eyes are illuminated by sharp iridescent tones. Stunningly sophisticated.
You blush!
Blush 4 Eclats blusher is the new Guerlain master stroke for sculpting the face. Guerlain invents a unique way to emphasise the cheekbones. With one stroke of the brush, you can experiment with different light effects and colours using this mini palette. This radiant blusher visually lifts the cheekbones and defines the face with different shade combinations.
The 4 colours are displayed alternately in pearly and non-pearly shades to create a perfect flawless look. They can be combined, blending into the cheekbones to create a unique look fit for the occasion. The unique powdery texture is fine and light. It softly caresses the cheeks leaving a veil of silky colour.
How to play : By brushing over the palette from left to right, the brush picks up the lighter shades and applies them to the top of the cheekbones.The darker shades naturally cover the lower cheeks to add depth and structure to the contours of the face.
Subtle look: for a natural and less contrasted look, brush the blusher from left to right
applying the two top shades.
Refined look: for a sophisticated look or under artificial lighting, use the two bottom
shades.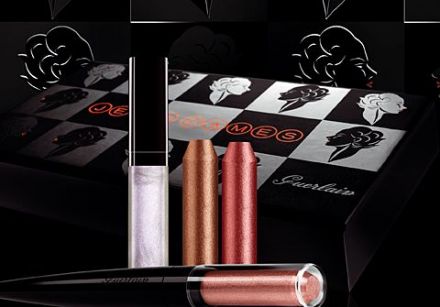 KissKiss Jeu de Dames
With its reinterpretation of the famous 1929 Jeu de Dames lipstick, Guerlain offers a
modern version of the colour palette with this limited-edition case. The stylish outline of a woman with scarlet lips sits on a playful glossy grey and matte black checkerboard which conceals an unexpected array of sophisticated colours. As soon as you open the lid, the uniquely contrasted metallic and gloss shades dazzle with their beauty.
The KISSKISS Jeu de Dames case contains a pencil holder, three metallic lip pencils with sharpener and a gloss.Depending on the colour and desired look, a velvety subtle finish can be swapped for a brilliantly dramatic effect and vice versa! Three shades: beige, pink, red. Soft beige creates a natural smile, pure pink creates fuller lips, and mysterious scarlet achieves a striking pout. They have a soft powder texture that is a sheer joy to apply. Once inserted into the pencil holder, the chosen pencil glides across the lips. If the whim takes you, apply a top coat of gloss for a stunning glossy smile!
The irresistible radiance of a femme fatale's smile or the fullness of plump youthful lips: this is Guerlain's interpretation of the female paradox.With its sensual, velvety cream texture, KISSKISS EXTREME sculpts, redefines and accentuates tantalizing full lips. Semi-matte radiant lips that pout seductively, rich in pure colour and velvety smooth are infinitely kissable. Mysterious and harmonious shades shimmer on a palette of dusky pinks, mellow oranges and subtle browns. An ingenious formula creating radiant velvety lips. A "colour trap" containing 10% more powders than a traditional lipstick. These powders bind the oils to prevent the lipstick from smudging. The colour is longlasting and KISSKISS EXTREME colour does not bleed.
Now it's time for you the play! Glamour or Innocence!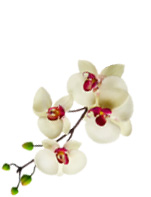 ©Copyright MSCOMM 1996 – 2023. Michèle Serre, Éditeur
Spas

Care & Make-up

Health

For Men

Glossaries

Various