Makeup brushes - what should I choose?
Make-up brushes have many applications: lining the eyes, filling in the lip line, fluffing on eye shadow and blush, finishing with powder...
And because brushes have many tasks, there are numerous sizes and shapes available on the market, made from differing materials. Buy quality brushes that won't "shed" every time you use them! The best are made from sable (for eyes and lips) and goat, pony, nutria, blue squirrel or badger bristles (for powders and blush). A good brush will retain its shape.
A note about sable brushes: the color will go exactly where you apply it; for a lighter, broader wash of color, use a squirrel brush instead.
What is is: Use this brush to train your eyebrows by first brushing them upward and then smoothing them back toward the ear.
What it does: This brush separates and gives definition to your eyebrows.
What else you should know: Sometimes available as a two-in-one tool with an eyelash comb to separate lashes and remove excess mascara.
Tips: To give more definition to light or thin eyebrows, first brush upward to emphasize the arch and open up the eye, then brush lightly towards your temple to put them back in place, respecting your eyebrow's natural curve. To control rebel eyebrows, brush them downwards with a touch of moisturizing lotion.
What it is: A small firm-tipped brush for applying lip color.
What it does: Ensures an even lip line and greater control when applying your lip color.
What else you should know: If you like to line your lips, a brush is an excellent way to fill in lip color without disturbing the precise line of your lip pencil.
What it is: A narrow domed rush to line the eyes.
What it does: You can line your eyes with eye shadow or smudge your eyeliner pencil line with this brush.
What else you should know: If you're looking for a sharper line, try the Trish McEvoy No. 11 brush. It's 3/8" wide, to give a precise line very close to the base of the lashes. Or try Paula Dorf's tiny nylon brush -- its slight curve follows the lash line on the inner side of the lid.
Tips: Use the bevelled edge of the brush to outline the contour of your eye with a line of strong color. Then build up the shadow at the outer corner of your eye.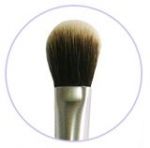 What it is: The Blender Brush is a large brush with a fluffy shape.
What it does: Sweeps shadow across the lids and blends color.
What else you should know: Provides even application with an air-brushed finish.
You can use also a Kabuki brush.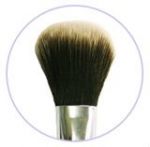 What it is: A fluffy brush cut on an angle to fit your cheekbone comfortably.
What it does: Applies blusher.
What else you should know: This larger fluffier brush is preferable to the brushes in blush compacts, which are too small and pick up too much color.
Tip: Apply blusher by starting at the rounded part of the cheekbone (even with the middle of your ear) and move up towards your ear.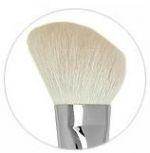 What it is:
A small, soft, angled brush head for perfectly sculpted cheeks.
What it does:
This angled brush is perfect for sculpting and emphasizing cheek contours with blush or all-over face color. It's an essential tool for defining facial structure in one simple step.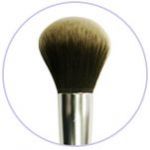 What it is: The largest brush in your collection.
What it does: Applies loose face powder or finishing powder evenly, removes excess powder, softens foundation, or blends blusher.
What else you should know: For even application, the powder should penetrate the bristles of the brush. To achieve this, powder the brush, then hold it bristles up and tap the base on a hard surface.
Tips
Brush the powder on your cheeks, nose, forehead and chin, not forgetting your mouth and neck.
Did you put too much color on your eyelids?
Using a large brush, "sweep" away the excess with light outward movements.
Have specks of eyeshadow fallen onto your face?
Sweep away the specks with a large brush, moving outward in light even strokes.
Next time, before applying eyeshadow, apply an invisible powder to your lower lids and when you've finished applying your makeup brush away the powder with a large brush.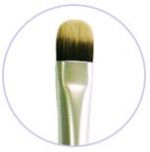 What it is: A versatile natural-bristle brush. You will probably want two: a 1" soft, fluffy brush, and a smaller, slanted brush.
What it does: The fluffy brush is used to apply color over the whole eyelid, while the smaller, slanted brush can be used to apply contour color into the crease under the socket bone.
What else you should know: The multi-purpose Shadow Brush gives an all-over sweep of color with the flat side. Or use the fine, rounded tip for more exact eye shading. This brush picks up a lot or a little color, and lets you layer, blend, shade, and define.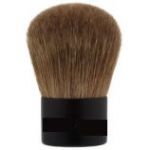 What it is:
This brush offers full coverage with a wide range of makeup, like mineral makeup, loose powder, bronzer, and blush.
What it does:
The densely packed hair bristles pick up more product to provide moderate to full coverage. It has no handle, making it easy to hold in the palm of your hand and create contours on the face. When used to buff in a circular motion, this multi-taking brush leaves behind an airbrushed finish on every last feature.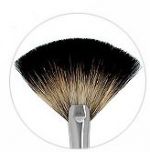 This feather light, super soft fan brush lightly lifts away any excess shadow that may have fallen during application. It's also a great tool for applying soft sweeps of color to the cheekbones.
You can use also a Kabuki brush.
Now you just have to apply the right product.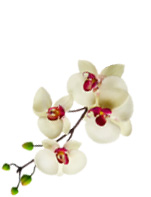 ©Copyright MSCOMM 1996 – 2023. Michèle Serre, Éditeur
Spas

Care & Make-up

Health

For Men

Glossaries

Various