2016 - Autumn Clarins Make-Up Collection. Love Volume?
All about Autumn 2016 Make-Up Collection > Clarins > Volume, Volume, Volume
Love volume?
You are going to adore the new Mascara Supra Volume : lashes as you have never seen them before, for longer*. To give full expression to beautifully intense eyes, the complexion is flawless and lips ultra-soft.
This autumn, the Clarins Make-Up Collection is becoming part of women's everyday routine to make their lives more beautiful: textures that care for the skin and are as easy to apply as they are to wear, new eyeshadow shades for any occasion and above all…
Volume, volume, volume!
Ready to amaze?
1. A perfect complexion from morning to night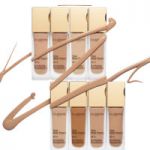 Everlasting Foundation+ SPF 15
A perfect, spotless and flawless complexion..
18 hours of hold - Keeps its promise from morning to night
The combination of bamboo powder and High Fidelity System+ technology gives the texture infallible hold. With its ideal coverage, Everlasting Foundation+ visibly reduces dark spots, redness and imperfections with a natural-looking finish.The skin appears flawless.
18 hours of comfort - Its formula enriched with organic quinoa extract keeps the skin supple and reinforces the MICROPATCH VEGETAL's moisturizing action.
Because your skin is faced with a polluted environment that is detrimental to its balance and vitality, this formula is enriched with Clarins exclusive anti-pollution complex. Everlasting Foundation+ also protects the skin against the harmful effects of UVA-UVB rays thanks to 100% mineral filters.
19 shades*** to meet the needs of all women
Blush Prodige
An instant healthy glow - Pink, apricot or orange-toned, blush brightens and sculpts the complexion. With its mineral and plant texture – bamboo powder and tomato extract – Blush Prodige can be built up as you wish for a long-lasting fresh cheeks effect.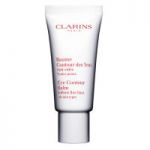 Eye Contour Balm
For easily applied, long-lasting eye make-up, start by taking care of your eyelids and eye contour area morning and night. As well as minimizing the look of wrinkles, fine lines and crow's feet, Eye Contour Balm contains a Clarins exclusive complex formulated using shea butter extract that helps hydrate and smooth the delicate skin of the eyelids and eye contour area.
The perfect step to refresh and boost the microcirculation:
Warm the product on your fingertips, apply, then press lightly in an outward direction. Repeat three times above and below the eye.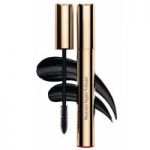 Mascara Supra Volume
Clarins has reinvented its volumizing mascara:one mascara, two make-up and lash care "volume" effects. At the heart of the formula, carnauba wax powder and cassie flower form a film that coats and shapes each lash, leaving them perfectly supple, for exceptional immediate and long-lasting volume.
Its formula concentrated in carbon black and ultramarine pigments offers a spectacular intense colour effect. Lashes appear even thicker. Why? Clarins Laboratories have developed a new "Volume booster" complex: an unprecedented combination of key ingredients that help thicken lashes. With repeated application, your lashes increase in volume. Lashes are also strengthened through the action of the panthenol contained in the formula.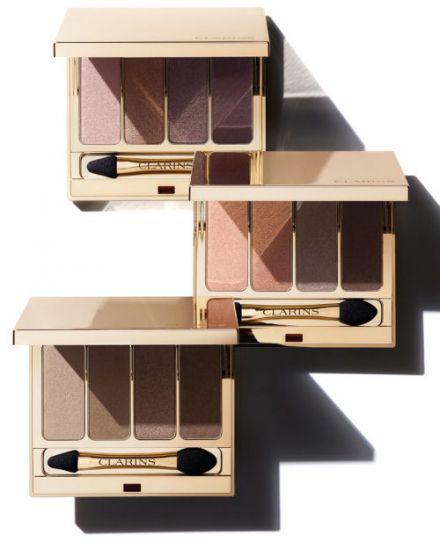 4-Colour Eyeshadow Palette
Highly concentrated in mineral pigments, the eyeshadows colour the eyelids from the first sweep. Unmistakably modern shades for everyday wear: nude, rosewood and brown come in matte, satin and
pearlescent versions that are easy to apply and build up as you wish with the double applicator.
Formulated for wet & dry use, these powders glide on dry for a soft look or are applied slightly damp for a more sophisticated make-up look. They deliver perfect hold all day long.
Clarins Laboratories have developed sensorial, supple and comfortable mineral textures that smooth the eyelid, thanks to the action of carnauba wax and corn starch.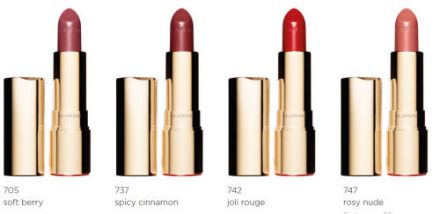 Moisturizing, Long-Wearing Lipstick - The only words on your lips.
6 hours of moisture* and wear.
The Joli Rouge effect can also be seen on bare lips: its ultra-moisturizing formula enriched with organic marsh samphire and mango oil plumps up lips, leaving them softer,smoother and more supple.

Joli Rouge glides perfectly over the lips. Its smooth and melting texture colours lips with the first coat, without bleeding. Your lips can't get enough of the irresistible Clarins signature red berry flavour.
Autumn colours : From nude pink to classic red, four intense and luminous shades to match your every mood.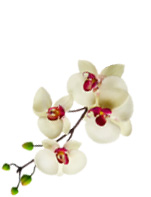 ©Copyright MSCOMM 1996 – 2023. Michèle Serre, Éditeur
Spas

Care & Make-up

Health

For Men

Glossaries

Various