Discover highlights for any hairstyle
All about hair > Highlighting Looks - Discover highlights for any hairstyle
Get Light-Headed Curls. Give Short Hair a Twist. Highlights are a fun, easy way to perk up your hair, especially in the summer. Find the look you want and how to make it at home.
Ideas for Medium to Long Hair
All-Over Highlights
Colour strands of hair on both sides of your part. Select fine or thick strands (one-quarter- to one-half-inch thick) to suit your mood. For a bold look, use the brush in Féria® Multifaceted Strands or Hi-Light Styliste™ to create thick highlights. Or try the wand in Hi-Light Styliste™ to get thinner highlights for a more subtle look.
Face Forward
Put your best face (and hair) forward. Create bold or fine highlighted strands to frame your face with Hi-Light Styliste™. Or use Couleur Experte™, first for all-over colour and then for highlights around your face.
Accent Your Waves
Detangle before you begin. Then use your Hi-Light Styliste™ brush or wand tip to pull out locks you want to highlight. Then use the brush and gloved fingertips to apply highlighting mixture throughout the strand.
Braid for Visible Chunks
Try braiding the strands you want to highlight. Your final result will be determined by how thick you make each braid. Using gloved fingers, apply colour to each braid, saturating each thoroughly; then let your hair sit for the recommended time. Rinse the braids and then unbraid your hair and wash it with shampoo and conditioner to achieve a dimensional look that enhances your curls. A great product for this technique is Frost & Design because it will provide you with plenty of formula to apply to your locks.
Brighten Your Tips
Divide your hair into many chunky sections and use rubber bands to hold the chunks at the base if your scalp. These will serve as your highlights, so place them around your head where you want your highlights to be. Apply the colour to the selected locks, using your preferred application wand. Hi-Light Styliste™ comes with a wand for thinner highlights and a brush for thicker ones. Don't worry if you can't get down to the root. You're only cssolouring the tips of your hair, so the variation of tone will add to the effect you are creating.
Buzz-Top Rays
Comb your hair back so it's sticking up. Use your gloved hand to apply colour to the tips only, working from front to back and side to side. You can also use a piece of plastic wrap. This is a great look for one of the bold Colour Rays shades.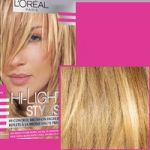 Hi-Light Styliste™ kits from L'Oréal Paris contain everything you need to achieve precise, beautiful results every time. Hi-Control Brush-on Highlights have a super-balanced formula that minimizes brassiness. Choose a Hi-Light Wand to create a refined look or the Bold Hi-Lights Brush to paint a more dramatic look. Finish with the rich Hi-Moisture Conditioner that will keep your newly highlighted hair shiny and soft to the touch.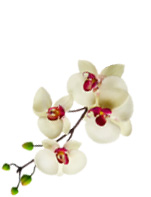 ©Copyright MSCOMM 1996 – 2022. Michèle Serre, Éditeur
Spas

Care & Make-up

Health

For Men

Glossaries

Various