The rage for red - hair that is!
All about hair > coloration > The rage for red - hair that is!
Dreaming of the Molly's red hair in the TVserie Castle! Red is clearly a trend that isn't going away any time soon. For four seasons we've seen different iterations of the fiery shade, and if you've been considering a change in hair colour, this holiday could be the perfect occasion to spice up your look. For the woman who's more daring and wants to add a big kick to her colour, the most important part is choosing the shade of red that's right for her.
Clairol Consulting Colourist Denis Binet offers his expert advice on getting the right red for you.
"Through history, no other hair colour has provoked such a dichotomy of emotional responses in such a large number of people. Redheads have been feared, loathed, adored and worshipped since the beginning of time.
Part of the mystique is that redheads naturally occur in only about 2% of the world's population, and with rarity comes desire.
Reds vary from the darker, cooler shades of burgundy, mahogany and ruby to the lighter, warmer shades of copper, ginger and strawberry blonde. A simple way of decoding reds is to know that the darker you go, the more auburn/burgundy/ruby you'll get, and the lighter the shade, the more it will look copper/ginger/strawberry.
Peach skin and warm undertones can go for a beautiful strawberry blonde for a chic and subtle look. A shade I recommend is Clairol Perfect 10 in 8.5A. Those looking for light accents of red will love this color.
Fair, pale and cooler skin with pinkish undertones looks best with the warmer shades of copper reds and gingers. Here you're looking for the lighter reds in the spectrum. A shade I love is Clairol Perfect 10 in 6R - it will give you a gorgeous coppery tone of red (don't let the word Auburn in the name mislead you!).
Medium, darker and even pale skin with sallow and olive undertones looks best with the cooler shades of burgundy, mahogany, ruby and cherry reds. Ladies in this palette will want to opt for Clairol Perfect 10 in 5R or 4R for the darker, richer tones of Auburn that will look stunning with their skin tone!" – Denis Binet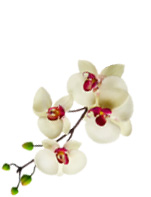 ©Copyright MSCOMM 1996 – 2022. Michèle Serre, Éditeur
Spas

Care & Make-up

Health

For Men

Glossaries

Various