All about fragrances > Roger & Gallet > Rose
Fragrance for women
Designer: Roger & Gallet
Creation: 2007
Olfactory group: floral
Embrace your senses in a magical bouquet scented with seductive rose and floral notes.
From the dream of an Indian garden was born Rose Gentle Fragrant Water... as caressing as the silk saris of Bengal, as clear as the fountains reflecting the palaces of the sultans, allow the magic of this bewitching bouquet pervade you with its delicious, secret sensuality.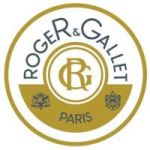 In 1862, the catalogue of perfume house Jean Marie Farina was bought by Armand Roger and Charles Gallet.
In 1875, Roger & Gallet launched Jean Marie Farina Extra-Vieille, meaning Extra Old. This signature scent is now regarded as R&G's most famous scent and for me will forever be associated with Paris.
Throughout the Art Nouveau movement, Roger & Gallet engaged help from some of the major players in Art Nouveau perfume creation. Vera Violette (1895), Pâquerettes (1908), Cigalia (1910), Psyka (1914), Narkiss (1920) and Le Jade (1923) are all considered to be some of the finest examples of Art Nouveau perfume creations.
In 1932, Roger & Gallet moved to Foubourg Saint Honore where it started collaborating with extraordinary animators to decorate it's shop windows with magnificent creations and thus became a gathering spot for Paris glitterati. The company also hired some of the finest Art Deco artists to decorate it's product packaging.
Throughout the years, Roger & Gallet carried on evolving with the times in terms of packaging and making the products relevant and slowly expanded it's catalogue of fragrances to reflect tastes.
As of 2013, there are currently 22/23 collections.
Rose imaginaire 2013
Fleur d'Osmanthus 2011
Amande Persane 2010
Bois d'orange 2009
L'homme sport 2009
Rose 2007
Cédrat 2007
Lotus bleu 2006
Vanille 2005
Bambou 2005
Shiso 2004
Gingembre 2003
Jean-Marie Farina Eau des bienfaits - decade 2000
Thé vert 2000
Lavande royale 1991
Bouquet impérial 1991
Vetyver 1991
Open 1985
L'homme 1980
Jean-Marie Farina extra vieille 1875
Jean Marie Farina 1806
Oeillet mignardise is only available in a round shape soap. Blue Carnation (1937) is no more listed in the catalog.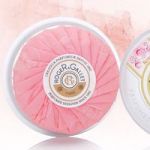 The company made a name for itself with its luxurious bath soaps, which in 1879 first appeared in their signature round shape, with the crinkled silk paper and seal which are still in use today.
At the top,
the natural and radiant freshness of the Nepalese rose, exhaled by sparkling mandarin and the transparence of a white floral.
At the heart,
the deliciously intense exuberance of a combination of rose and peony, accentuated by the green of a rosebud.
Deep down,
the mysteries of amber, the velvet of almond milk.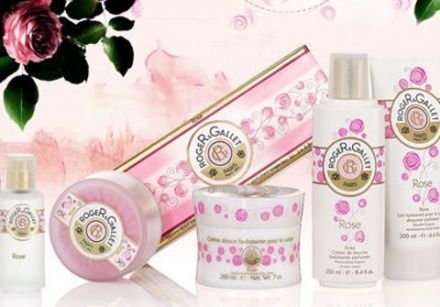 Relaxing Rose Collection includes:
Rose fragrant water 30ml / 100ml / 200ml
Perfumed Cream Soap
Round soap - Box / Travel box / 3-soap Coffret
Moisturizing Body Lotion
Moisturizing Protective Fragrant Hand Cream
Moisturizing shower cream
Liquid soap
Candle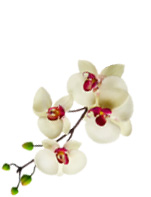 ©Copyright MSCOMM 1996 – 2020. Michèle Serre, Éditeur
Spas

Care & Make-up

Health

For Men

Glossaries

Various