04-2010 - What's new in self-tanning products
What's new in self-tanning products
Lose the tan, keep the summer look
The dangers of summer tanning are well-known. No wonder so many women consider a bronzer a must-have to get a healthy sun-kissed glow without exposure to harmful UV rays.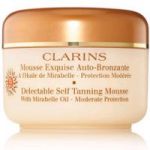 Clarins whips up luxurious delectable self tanning mousse. For the most part, self tanning creams haven't been too luxurious or sensuous up to now. Thankfully, Clarins has rectified this problem with a lightweight whipped cream that glides on skin, provides an SPF 15 and creates a warm, tanned hue on skin. A new fruity fragrance combining bitter almond and peach notes is designed to conceal the odour of DHA while aloe and mirabelle oil provide deep moisturization. The result is a golden tan in less than two hours. Best of all, there's no risk of damaging UV rays from traditional tans.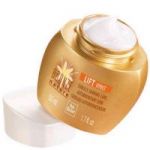 Healthy glow is transformed into six "Bronze Nature" products drawn from tiara flower extracts for an even, natural-looking tan.
For your face, consider 2-in-1 Healthy Glow Moisturizer all year around to give skin a touch of sunkissed color. If, besides a self-tanning treatment, your skin could also use an anti-wrinkle therapy, give yourself a double shot with this self-tanning and anti-wrinkle treatment. Intended for all women aged 25 and up, Lift Effect Sunless Tanning Care tans your skin and gives you a "facelift" effect in just one hour. Your complexion is golden, skin quality improved and wrinkles smoothed.
Dare to cheat a little with this totally natural-looking self-tanner! Sunkissed Face Sunless Tan Care is the perfect product for anyone who's new to self-tanning! It gives a light, 100% natural-looking tan and has an ultra-smooth texture that makes it so easy to apply evenly. It also has a moisturizing* and immediate smoothing effect. The plus: its gel texture is easy to blend, ensuring an even result.
For your body, spritz on Express Bronze Sunless Tanning Spray for a tan that is natural and radiant. For true skin care, this sunless tanner moisturizes and smoothes the skin. The plus: the multi-position spray allows easy application even on your back or legs.
Do you have plans later? Choose 3-in-1 Shimmering Sunless Tanning Care: the perfect tanner if you've shied away from self-tanner in the past. It gives skin a pearly glow upon application and its golden pearly pigments ensure you can see you've applied it evenly, so in one hour your self-tan is perfect!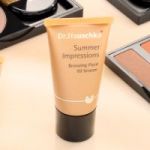 For those who prefer the performance and convenience of a liquid, Dr.Hauschka presents two Bronzing Fluids. Natural pigments, plant extracts and minerals are combined to give the complexion a subtle shimmer. Our Bronzing Fluids go on light and easy as a summer breeze, yet with ample coverage to hide minor flaws. Gentle enough for the most sensitive skin.
The Bronzing Fluids are offered in two tones: Bronzing Fluid 01 Golden Beige and Bronzing Fluid 02 Warm Deep Bronze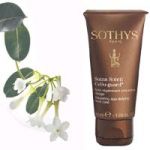 Control the sun, enhance the pleasure!
Sothys has created a new generation of sun care: the exclusive association of Cellu-guard® and jasmine flavonols provides both dual tissue protection and triple cellular protection while also enhancing the natural protection system of the skin against free radicals. And sothys goes even further, by creating light and delicately scented sensory textures, to give exceptional well-being. The pleasure of the senses, UVA / UVB protection … beauty salon expertise to harness the
very best of the sun.
Progressive sunny glow lotion:
New! a 2 in 1 face and body formula that gradually gives a golden and natural tan. Thanks to its light concentration of tanning ingredients, it can be used daily for a healthy complexion all year long.
Face and body self-tanning cream :
Within a few hours, its non-tinted cream formula gives a natural, sublime and long-lasting tan to the skin. Its velvety texture is enriched with moisturizing* ingredients for a supple skin and a radiant complexion.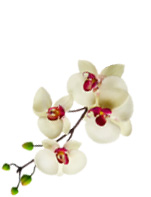 ©Copyright MSCOMM 1996 – 2020. Michèle Serre, Éditeur
Spas

Care & Make-up

Health

For Men

Glossaries

Various