Peach - A peach complexion
All natural > Get a peach complexion and keep your figure!
Remarkable health benefits
An essential source of moisture and minerals
To feel in top shape and to better flush out toxins, your body needs to be regularly rehydrated, particularly when subjected to summer heat. With an 87% water content, the peach is an excellent source of natural hydration. It also helps remineralize your body and plays a part in rebalancing internal systems.
An important source of fiber and vitamins
When peaches are available when perfectly ripe, their fiber is very tender and gently promotes the body`s proper functioning.
Of all stone fruits, nectarines are the highest in vitamin C, with 20 mg per 100 g. Peaches provide 8 to 10 mg, or 10-12% of the recommended daily allowance. These fruits also supply the antioxidant properties of vitamin E, as well as niacin, a component of vitamin B3 which promotes proper blood circulation.
Peaches are a beauty essential if you wish to keep a peach complexion all summer long!
Peach extracts are recognized in cosmetics for their softening and revitalizing properties. Their numerous vitamins (A, B, C, E) give them a regenerative and protective power that strengthens the skin`s resistance and tone. That`s why peaches are also often part of the main active ingredients in skin exfoliants, beauty masks, make up and revitalizing cream.
Rich in vitamin A (carotene), the peach promotes tanning and contributes to a glowing complexion! Just one yellow-fleshed peach provides 50% of the recommended daily intake of vitamin A.
Peaches are also your figure`s ally! With only 40 calories each, the peach is a low-cal food that should be part of a balanced diet.
A "peaches and cream" complexion isn't just a saying… today, as in the past, a crushed peach applied to the face as a mask will restore skin's youthful velvety softness.
..........
Collaboration : Pêche d'enVie, pêche d'ici.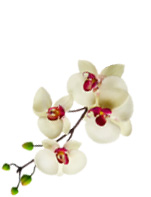 ©Copyright MSCOMM 1996 – 2023. Michèle Serre, Éditeur
Spas

Care & Make-up

Health

For Men

Glossaries

Various