All about fragrances > Azzaro > Wanted
Fragrance for men
House: Azzaro
Designer: Loris Azzaro
Lauching : 2016
Olfactory group: woodycitrus-spicy
Today, the Azzaro brand expresses itself with the flamboyance of its original values embodied by a bold, generous and irresistible man, a hedonist who freely chose his own way of life: Loris Azzaro. With "gamble, give your all and succeed" as his motto, he followed his instinct, tempted fate, and rose to the heights of creative genius with his dazzling gowns, adored by celebrities and worn by the world's most alluring women.
The new fragrance Azzaro WANTED has inherited the temperament of this charismatic man and symbolizes the brand's entrance into a new era. It expresses the strength and ambition of this project, which is to incarnate the "rebirth" of Azzaro perfumes and create a third Azzaro masculine pillar, along with Azzaro Pour Homme and Chrome. Azzaro becomes "the brand that celebrates life" to enable men and women to defy destiny, try their luck and attract desire. WANTED: for being coveted, craved and desired. A many-faceted word, full of nuance… Desired by women and envied by men, our new man takes chances with unswerving confidence to taunt destiny and get what he wants. He reaches what he targets, he gets what he dares to want.
The bottle - A real "Boy's Toy"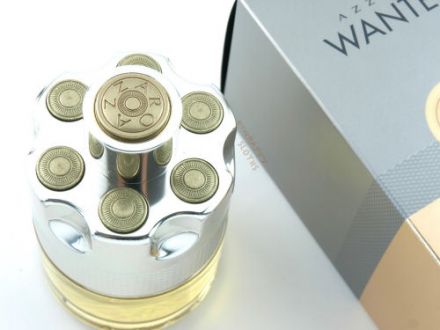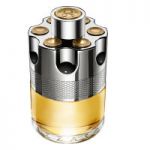 The astonishing Azzaro WANTED bottle is a harmonious blend of style and technology, a technical marvel and an artistic breakthrough. Let's dissect this very beautiful boy's toy to discover all the references to masculine passions hiding behind it.
It could have come from the hands of a goldsmith! This cylindrical bottle is unusually complex; that's obvious immediately. There's nothing like this bold luxury item that thumbs its nose at the reigning cult of normalcy to slake an obsession with detail! This totally original bottle is, first of all, a guarantee of attitude for the man who holds it in his hand and the ideal container for a fragrance that is meant to be a shot of cool seduction and immediately habit-forming. Adding the distilled obsessions of the children we once were to eternal masculine enthusiasms (mechanics, gambling, etc.), this object of desire could rapidly become iconic.
BELLE MÉCANIQUE
This handsome techno-chic creation recalls clockwork mechanisms and pistons of a prized sports car that a man loves to discover when he lifts the hood.
OBJECT OF DESIRE
A shiny totem enhanced by the combination of a chromed collar, brass bullets and the reflections of the sun-filled liquid, this provocative object is both stylish and unique, a status symbol to die for.
WEAPON OF SEDUCTION
The rotating cylinder holding the bullets evokes risk-taking, defiance and self-confidence, in obvious reference to the heroes of our childhood westerns who were masters of their own destiny.
HEAVY METAL
This masculine shape, this calm and reassuring robustness, bring to mind strength and power. Exacting and formal, this bottle pays tribute to the absolute triumph of virility.
HEADS OR TAILS
The gold Azzaro medallion on the cap unmistakably recalls a poker chip. Bet your life on heads or tails, win at any price: this is the leitmotif of Azzaro WANTED!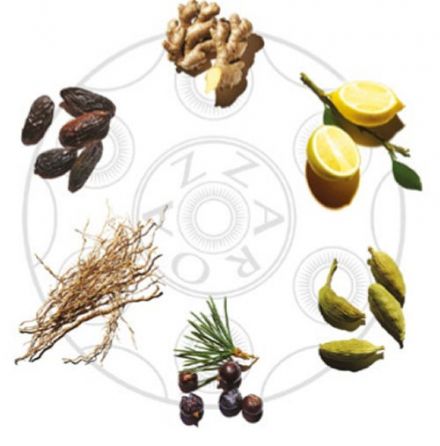 Azzaro WANTED is a singular men's fragrance. It is the essence of a man who burns the candle of life at both ends. It's one thing to recognize this but how to create an olfactory translation of the boldness, hedonism and freedom of a man whose mantra is "Happiness, here and now!"? By composing a handsome woody fragrance soaked in fresh spices. This fragrance has everything it needs in all the right places to please men (and therefore women) and make it...
a timeless hit: a well-made and explosive first impression (lemon, ginger),
a fleeting heart (cardamom, pyrogenic prickly juniper)
and a muscular, ultra-sensual base (Tonka bean, vetiver). And because « green is the new cool »,
The season's most beautiful materials
Woven of noble, trendy materials that give it a modern cut and an impeccable hang – just like a very handsome suit – Azzaro WANTED can be classified as a woody-citrus-spicy fragrance. We rummaged through the formula as if it were a man's closet and found a selection of the most beautiful collection "items" to stylize skin.
Ginger
From Nigeria, this "cool" spice shows pretty peppery-rosy facets to whoever wants to admire them. Stylistic effect? Extraction with carbon dioxide (the high-tech alternative to extraction with solvents) allows preserving the plant and obtaining its full, multifaceted richness, including the sexiest facets.
Cardamom
This unassuming seed from Guatemala* exudes a shaded range of tones that are spicy, tea-like, balsamic and very lemony. Stylistic effect? This exclusive quality adds vibrancy and energy to the fragrance.
Vetiver
This strange root, a must-have of masculine perfumery, distills a woody note with timeless elegance that easily evokes a stroll through woodlands. Stylistic effect? This variety from Haiti* features a "fresh woody" tone that anchors the masculinity of the scent in a light setting.
Lemon duo
Not one, but two extraction methods are used to obtain a unique Calabrian quality: "sfumatrice" and "torchio" allow processing of both the peel and pulp. Stylistic effect? Tones collide through a blend of zesty, explosive facets and customary lemony bitterness with juicy, sun-filled, smiling properties.
Tonka bean
This "seed of pleasure" from Brazil* offers facets of vanilla, almond, tobacco, cinnamon and light caramel to the composition. Stylistic effect? It wraps the vetiver in almondscented mildness and adds a great deal of richness, sensuality and an addictive edge to the composition.
Prickly juniper
It is a plant from the French garrigue region and Provençal scrubland that also grows in Spain; it allows weaving in beautiful "leathery" accords. Stylistic effect? Pyrogenic prickly juniper has been heated to a high temperature to give it a smoked aspect, which is chosen by a perfume designer to add a smoky and slightly woody-amber touch to a composition, giving it an elegant silhouette.
Azzaro WANTED is also ecologically responsible. Indeed the perfume's three star ingredients come from a program of sustainable development: cardamom from Guatemala, vetiver from Haiti and Tonka bean from Brazil. The perfume house Firmenich has paired with local partners to select the best quality ingredients and guarantee fair trading with these communities (creating jobs, access to water and education…) in respect and preservation of their environment (biodiversity…).
2017 Azzaro Wanted Freeride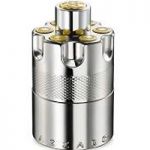 The now cult bottle is back in a collector's limited edition: inspired by fine engineering, Free Ride is covered with a metal finish for an utterly masculine result.
IFreeride is a fresh and sensual Eau de Toilette dedicated to hedonistic and flamboyant men who know how to seize their chance and challenge their destiny.
TOP NOTES
Lemon, Ginger, Mint, Lavender
HEART NOTES
Cardamom, Juniper, Apple, Geranium
BASE NOTES
Vetiver, Tonka bean, Amberwood
Azzaro Wanted by Night 2018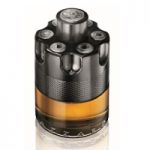 There is a looming sense of an unbridled olfactory tease. The secret is a triple blow of seduction that attracts practically everything in its path. The popular and legendary Azzaro Wanted fragrance is out and all dressed up to offer you a festive and flamboyant brand new eau de parfum: Wanted By Night, a woody oriental spicy fragrance.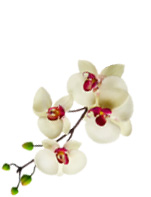 ©Copyright MSCOMM 1996 – 2022. Michèle Serre, Éditeur
Spas

Care & Make-up

Health

For Men

Glossaries

Various