2013 - 07 - Vichy Capital Soleil
All about new beauty products > Vichy > Capital Soleil
14 products offering the very best in sun protection and pleasure of use. For all skin types, even sensitive.
We all have a different ''sun exposure capacity'' for our skin (capital soleil) that we progressively exhaust with repeated exposure.
Although our skin can repair some of the damage caused by UVA and UVB rays, it cannot do so indefinitely, which is why it's important to help maintain our skin's ''sun exposure capacity'' with suncare products adapted to your skin type.
Capital Soleil is known for the outstanding quality of its sunscreen filters. Photostable and broad spectrum, these filters protect skin from UVA and UVB rays and remain efficient even after prolonged sun exposure. Their pleasant and easy-to-apply textures make sun protection an easy and pleasuable experience.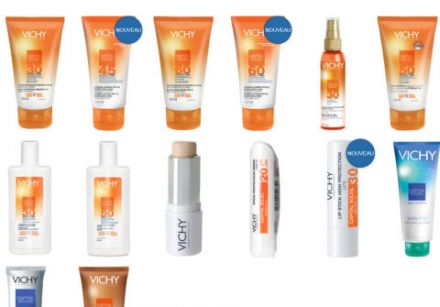 How do I choose the appropriate SPF level for my skin?
Phototype
1

Phototype 2
Phototype 3
Phototype 4
Phototype 5
Phototype 6
Skin type
Extremely light skin
Extremely light skin
Light skin
Olive skin
Dark skin
Darker skin
Hair colour
Blond or red
Blond or light brown
Blond or light brown
Light brown or brown
Dark brown
Black
Eye colour
Light
Light
Light or dark
Dark
Dark
Extremely dark
Burning level
Immediately
Often
Sometimes
Not frequently
Rarely
Never
Tanning level
0
Light tan
Medium to light tan
Dark tan
Darker tan
Black
SPF
60-50
60-50
50-45
30+
30+
30+
As shown in the figure above, the paler your skin is, the higher the SPF of your sunscreen must be.
Make sure you reapply it several times during the day, at least every two hours.
If your skin is oily, choose a product that has a fluid and mattifying texture.
If it's dry, choose a rich cream or milk.
Must haves: SPF 60 Ultra Protection Stick if you want to pay special attention to more sensitive facial areas during sun exposure such as eye and lip contours, ears and nose. You might also like the Lip Protection Stick SPF 20 and SPF 30 if your lips are sensitive to sun exposure and are susceptible to cold sores. If you're a water sport fan, it's a must!
Body and face sun protection (SPF 30, 45 and 60) are available in cream or in bare skin feel lotion for men and women of all ages with phototypes 2, 3 or 4 who want to protect their skin efficiently from UVA and UVB rays, in an ultra-light dry-touch. The SPF 50 lotion has been specially formulated for children.
You will love the High Protection Suncare Oil SPF 30 if your skin phototype is 3 or higher to protect your skin from UVA and UVB rays while enjoying a luxurious dry oil texture and light fresh floral fragrance.
Protection also means hydration. Capital Soleil suggests a Daily Milky Care and a Cellular SOS Repair Balm for those who want to soothe redness, swelling and burning sensations caused by sunburns.
To complete the range, Vichy adds a Self Tanner - Moisturizing Milk Face and Body for those who want a natural looking tan with less sun exposure.
14 ways to enjoy summer!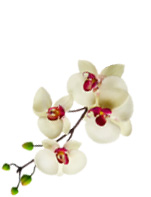 ©Copyright MSCOMM 1996 – 2020. Michèle Serre, Éditeur
Spas

Care & Make-up

Health

For Men

Glossaries

Various