2014 Summer makeup - Collection été by Yves Rocher
All about makeup > Yves Rocher > 2014 Summer Collection
All the charm of a summer spent by the Mediterranean Sea
This summer, escape to the shores of the Mediterranean, discover the bright colours of this port of call in an irresistable and elegant makeup collection.
TRIO BRONZER
A sun-kissed glow, even without the sun!
This summer, treat yourself to this trio of finely shimmering bronzers for a natural-looking glow.
Its light, comfortable texture leaves the skin soft and smooth. Easy to pick up with a brush, it applies easily and uniformly.
Bonus + : Three shades in one powder to suit every complexion.
EYE TRIO
Mini palette, maximum trend!
This summer, be daring with colour and fall in love with this eyeshadow trio in hues inspired by the Mediterranean. Apply individually or mix them up:
- Smokey Blue, an ultra-pigmented blue to intensify your eyes.
- Bronze and Golden Beige, two ultra pearly nude hues to brighten your eyes.
Their fine, silky texture is easy to apply with your fingers.
Botanical-based ingredients: Rice extract.
EYE PENCIL
A trendy look with the stroke of a pencil!
This summer, dare to use colour with these eye pencils in alluring hues inspired by the Mediterranean:
- Royal Blue or Mediterranean Blue, 2 dazzling hues with aquatic highlights to energize your look.
- Lemon Yellow or Copper Brown, 2 sunny hues to brighten your tan.
Their long-lasting, soft, and comfortable texture is suited for sensitive eyes and easy to remove. Use them as eyeliner or eye shadow to change looks according to your mood!
Botanical-based ingredients: Camellia oil
GLITTER MASCARA
Want sparkling eyelashes?
This summer, change your habits and illuminate your lashes with a golden shine.
Its light, non-clumping formula is ideal for intensifying the shimmering effect with several strokes of the brush. Apply by itself or on top of your usual mascara!
Three trendy shades for a mirror effect! This summer, your lips will be irresistible!
- Bright Pink: An intense, glamorous shade of lacquer for an undeniably feminine touch
- Copper Sun and Golden Beige: Two subtly shimmering jellies for naturally enhanced lips
The little plus: a fluid texture with a delicious light fragrance!
Brighten up your nails with the colours of the Mediterranean.
This summer, be on top of the latest trends with these 5 mini nail polishes:
Rose vif or Brun cuivre: Two intense shades for a chic, glamorous look
Bleu roi or Jaune citron: Two bright, vivid shades to show off your tan.
Finally, ultra-shimmery gold to make all your looks shine.
Bonus + : A small format to collect without feeling guilty and change your look on a whim!
You will crack for crackle nail polish! Dare to nails ultra-trendy with this matte Bleu méditerranée crackle nail polish to be used as a top coat on the nail polish colour of your choice. Its practical formula dries in a flash and the crackle effect is instant!
Max Herlant, Yves Rocher Makeup Advisor
This summer, be daring with colour and use the Royal Blue Eye Pencil, trend-setting colour of the season, as an eyeshadow. Sweep the pencil over the entire eyelid, from the internal to the external corner of the eye for an intense colour effect, before applying the Ultra Pearly Golden Beige from the Eye Trio that will subtly brighten your eyelid. For a natural, delicately tanned colour, use a brush to generously apply the Bronzer Trio to your face and neckline. Don't be afraid to emphasize the bridge of the nose, the cheekbones, and the chin to accentuate the luminous and tanned effect. To perfect this look, a slight touch of Copper Sun Lip Gloss will enhance your lips for a mouth that has a delicate copper tint.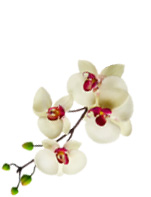 ©Copyright MSCOMM 1996 – 2023. Michèle Serre, Éditeur
Spas

Care & Make-up

Health

For Men

Glossaries

Various