Red hot… and cool - New look, no commitment
Don't let the inevitable arrival of winter get you down. Warm yourself up with some red hot shades and turn heads in the process.
Red, the colour of passion… From the softness of strawberry blonds to the depths of burgundies, reds are the ideal shades to enhance your natural beauty.
Who can do red?
Absolutely anyone can… if you choose the right red. The wrong shade can make your complexion appear washed out, sickly or red.
The main elements to consider are your complexion and the colour of your eyes. For example, warm and coppery shades flatter green/hazel eyes and peachy or tanned skin tones. Blue eyes and rosy skin are best enhanced by violet and burgundy shades.
Only few percent of women are natural redheads, yet red is one of the most popular haircolours today. Head-turning ginger tones draw us with the promise of a fun, outgoing personality, while a deep, sultry scarlet reveals a dash of femme fatale.
Flight of fancy or radical change? Trial or commitment? There are 3 solutions
Semi-permanent dyes
Go for Natural Instincts by Nice n' Easy. These semi-permanent shades, with 100% pure aloe, camomile and ginseng are gentle on your hair while making it shinier and more healthy-looking. Trust your instincts and pick out the shade you've always dreamed of. It lasts 24 to 28 shampoos and allows you to try a new shade without absolute commitment.
You're ready to commit and say "I do" to red?
Looking for permanent colour and a drastic change? This is also the type of dye you'll have to choose if you have bleached or white hair. Opt for Feria by l'Oreal. The products contents molecules who enter hair's fibres for a colour that is deep, resistant, and makes each strand shine with the purest of red highlights, visible even on dark hair! Pure, powerful, vibrant and intense temptations for a red that is bold, intense and spicy! This year, l'Oréal focuses on a fiery Power Red and a Power Copper for the adventurer,the fearless.
Also with l'Oréal, Superior Preference, with Fade-Defying Colourants, stays true to tone for up to eight weeks without fading or turning dull and brassy. Care Suprême Conditioner, enriched with Vitamin E and UV filter, helps lock in first-day colour vibrancy, brilliance, and shine. From red copper to intense red...
Garnier is way ahead with 24 red colors divided in 4 brands. Try the new Garnier Nutrisse Mousse, the first foam to nourish and color in one step.
Redheads often have trouble keeping their colour true, rich and vibrant. Many redheads come see me and say that their colour fades faster than that of their blond or brunette friends," shares Michael Barnett, consulting stylist for John Frieda® Hair Care. "I recommend they use the Radiant Red collection to help protect their red through daily styling. Always know to choose de right product for the desired effect: Copper, with wild strawberry and ginger extracts for brighter, more luminous reds and Ruby, with pomegranate and plum extracts for richer, more intense reds.
Welcome to your new RED family with berry extracts.
Be red hot… and have some fun!
Reds are beautiful and vibrant. Unfortunately, these shades contain colour molecules that are rather small and tend to wash away when shampooing, resulting in a dye that fades sooner than others. The following suggestions will help you keep your colour vibrant for longer:
Re-colour hair every four to five weeks for colour that is always bright and luminous.
Make sure that hair is well saturated with colouring agent. Leave dye on as long as possible in order to maximise the deposit of pigments and intensify the brightness of the result.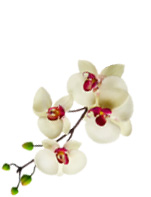 ©Copyright MSCOMM 1996 – 2022. Michèle Serre, Éditeur
Spas

Care & Make-up

Health

For Men

Glossaries

Various