All about hair > Say goodbye to dry and frizzy hair forever

Achieving a glossy, soft and pliable head of hair begins in the shower. When showering, use lukewarm water, not extra hot. Hot water is drying and can leave your scalp feeling tight.
The key is moisture. Using fingertips, massage a smoothing shampoo into hair. Work from roots to ends - taking care not to pile hair up on top of head, which leads to tangles, dryness and frizz.
Follow with a smoothing conditioner. No matter what hair texture you have, always comb conditioner through your hair in the shower with a wide-tooth comb. It will detangle and smooth your hair before styling.
Never skip conditioner when washing because when you use shampoo, hair is stripped of oils, making hair appear dry and lifeless. Your hair needs the moisture of conditioner to keep it strong and healthy. If you don't like the feeling of cream conditioners, use a lightweight leave-in spray on damp hair.
Don't wash your hair every day - 2-3 times a week is plenty. to allow hair's natural oils to work from roots to tips, rendering hair smooth and easier to work with.
Coax hair to lie flat by using thermal tools such as curling irons, hot rollers or flat irons. When heat is applied to hair, it seals the cuticle and creates smooth, shiny, healthy-looking hair. However, beware of overuse, which may lead to more frizz and dryness, and be sure to use protective hair products such as a Heat Protection Styling Spray or a Straightening Smoothing Spray, which works with heat to actually teach hair to remember your straight, sleek style each time you straighten it.
While blow-drying hair, use a large round brush to heat and smooth hair into shape.
Divide hair into sections.
Start near your neck, and work towards the top of your head.
With each hair section wrapped around the brush, apply heat from blow-dryer using a directional nozzle. Use the brush to smooth as it moves through the hair.
Allow hair to cool before removing brush for better hold.
Impart a glossy sheen by smoothing your finished style with a Shine Serum Spray, to lock out frizz and flyaways and give you just-from-the-salon sleek hair. If you frequently straighten your hair, begin your routine by misting damp hair with Straightening Smoothing Spray. This product actually makes hair straighter and smoother over time, so straightening becomes faster and easier - a great way to prevent flyaways by avoiding over-stressing with heat, brushing, and styling.
An easy way to maintain hair's vital moisture balance is to use a natural bristle brush, which stimulates the scalp to produce natural oils
Don't use shampoos and conditioners that aren't suited for your hair type. To get the best setup for styling, pick products that meet your specific needs.
..........
Top Photo: MSCOMM / 123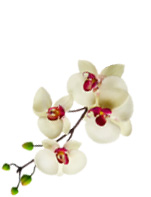 ©Copyright MSCOMM 1996 – 2022. Michèle Serre, Éditeur
Spas

Care & Make-up

Health

For Men

Glossaries

Various